Hollywood actor James Caan The film industry is mourning the news of the death of (James Cann Death). James was continuously entertaining people for many years. The news of the actor's death has also created a wave of mourning in Bollywood. Stars from Hollywood to Bollywood are expressing grief over the death of James. 82-year-old James was famous all over the world due to his brilliant performance in the film 'The Godfather. Due to this role of James, the interest in the acting of Bollywood actor Anupam Kher was born.
The family of American actor James Caan was informed about the actor's death by posting from the actor's Twitter handle. He wrote, 'It is with great sadness to inform you that Jimmy passed away on the evening of 6th July. The family is grateful for the love and immense love and heartfelt condolences. James' manager also confirmed this.
(courtesy: Twitter)
James Caan was famous because of 'The Godfather
James worked in Oscar nominee films like Misery, and Theif. James Caan, born in 1940, was fond of acting ever since he was studying. James, who started his career in theatre in the 60s, later became a part of many TV shows and films. Although James worked in many films, but the role of Sonny Corleone in the film 'The Godfather' gave him popularity. He is still remembered for his brilliant performance in this role.
James was Anupam Kher's idol actor
On hearing the news of James Caan's death, many stars from Hollywood to Bollywood are expressing grief by posting on social media. Bollywood actor Anupam Kher tweeted and wrote, 'Deeply saddened by the demise of James Caan. Loved his acting in many films, but his Sonny Corleone role in Godfather became the reason for me to be a part of the cinema world. RIP my friend Om Shanti'.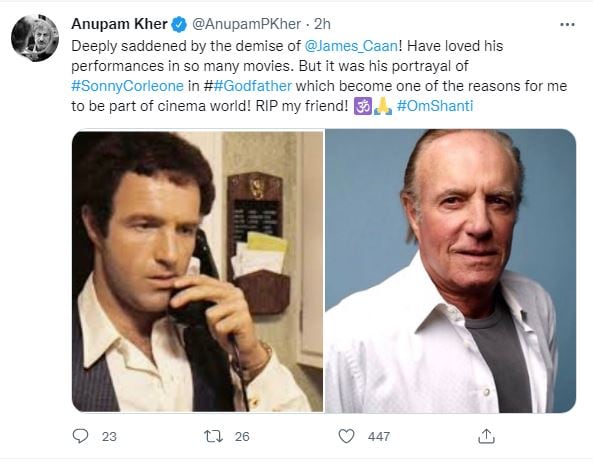 James Caan last acted in a romantic comedy film 'Queen Bees' in the year 2021.